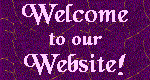 SPIRIT OF LIFE COMMUNITIES The Spirit of Life Communities is an inclusive, compassionate, non-Papal community under the Pastoral direction of Bishop Dana E. Lakin, which embraces all traditions of apostolic Christianity. We invite all to come worship with us, and exclude none from the Lord's table, as was the custom of Our Lord Himself.
This page still under Construction. For more information about us, our ministries, or our Mass times, please contact our Pastor, Bp. Lakin, at delrss@hotmail.com.
All material on this website Copyright (c) 2005 - 2997, Spirit of Life Communities, unless otherwise noted